Diving in Thailand
November 2002, January 2003, March 2005, December 2005, February 2008
Home
Similan & Surin Islands
Liveaboard dive trips to the Similan Islands, Surin Islands, Richelieu Rock and Koh Bon are by far the best diving i Thailand! Khao Lak is the starting point for the liveaboard dive tours, but there is hardly any local diving - just a single wreck packed with fish. After the tsunami the wreck is 'wrecked' and the visibility is normally poor, so don't waste your time and money...
My first liveaboard went to Koh Bon and the Similan Islands on a small boat called Nangnuan with only 7 guests on board. Very good trip! Manta Rays on the first dive! But it gets better - the following 4 trips have all been on the M/V Andaman (also with the dive operator Sea Dragon Dive Center. A very good dive boat with plenty of space for 20 divers, 5 divemasters and the boat crew.
The photos linked below illustrates some of the marine life you might expect to find in these waters. And the quality of the camera and the photographer is also improving over time. On the last two trips (in February 2008) I am proud to announce that my wife, Jette, has also made some fantastic photos.


Ko Lanta
Ko Lanta is an awfully decent place with a picturesque beach mostly dominated by Swedish tourists. But the diving at Hin Daeng, Hin Mouang, Koh Bida and Koh Haa is very good and the dive operator, Lanta Diver, is very professional. I went on my own in March 2005, returned with Jette in December 2005 and once again in February 2008.
Check out the photos on the links below. On the most recent trip in February 2008 Jette did a lot of great photos as well.


Ko Lipe, November 2002
Ko Lipe is an amazing place! Very few tourists, a fantastic beach (more than 1000m long) and good diving. Well, the local dive sites are not really that special, but 8 mile rock in the middle of nowhere is absolutely outstanding! Manta rays, sharks, moray eels and shoals of big fish like barracuda. Going to that site is a must! The current is quite strong, so you should try to avoid full moon. (60 photos)

After returning to Koh Lipe in February 2008 I cannot recommend this former paradise any longer. The former paradise has been turned into a tourist trap for Scandinavian families, the marine park is not respected by the fishermen and 8 mile rock is left as a pinnacle without any big fish...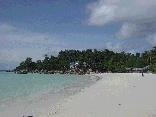 Ko Lipe
© Copyright 2003-2008 Jesper Ole Westerdahl @ Yezber.dk
Material can be used for non-commercial purposes with reference to this site.